ROTARY JUICE SCREEN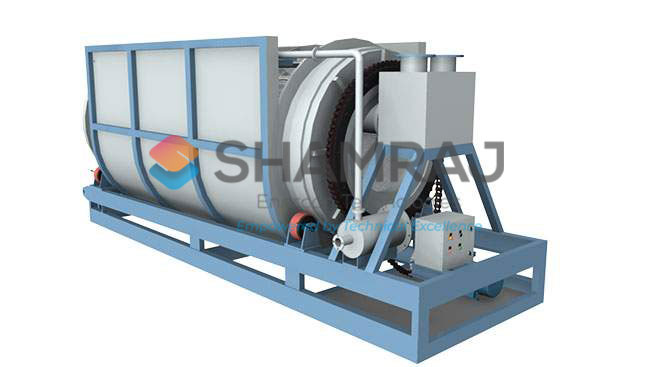 Products Information
1Suspending solids like bagacillo sand are efficiently screened, thereby reducing downtime for cleaning juice heaters due to less deposition of bagacillo on auto washing of screen line. This helps keep the screen free from deposition & chocking due to bagacillo.
2Very low power requirement due to use of planetary box as drive.
3Compact Design.
4Helps reduces space requirement at mill house.
5Requirement of statics screen totally eliminated.
6Improves colour of sugar due to efficient removal of bagacillo from mill juice.
Eliminates process problems like:
1Colour formation due to bagacillo reacting with milk of lime.
2Lighter particles of bagacillo require more time to settle therefore more retention is required at clarifier.
3Chocking of juice strainer & deposition of bagacillo on pump internals.
4Maximum screening area for complete juice screening.
5Complete construction in stainless steel ensure trouble free & maintenance free performance for years. Occasional lubrication is required. Designed inclination in through ensure quick removal of screened juice.
6Screening drum rotate on special quality polymer rollers ensure lowest friction.
7Caustic soda recirculation helps prevent microbial colony formation on screening apertures.
Product Video

Product Gallery



Our Prestigious Clients (For Rotary Juice Screen)
| S No. | Client Name | Destination | Screen Size |
| --- | --- | --- | --- |
| 1 | Nira Bhima S.S.K. Ltd., Indapur | Maharashtra | Ø 1800 x 3600 |
| 2 | Kukadi Sahakari Sakhar Karkhana Ltd., Pimpalgaon pisa, Ahmednagar | Maharashtra | Ø 1800 x 3600 |
| 3 | Gangamai Industries and Const. Ltd., Shevgaon, Aurangabad | Maharashtra | Ø 1800 x 3600 |
| 4 | The Sangamner Bhag S.S.K. Ltd., Amrutnagar, Ahmednagar | Maharashtra | Ø 1800 x 2400 |
| 5 | Bhima Shankar Sahakari Sakhar Karkhana Ltd., Pargaon Tarfe Avasari, Tal Ambegaon, Pune | Maharashtra | Ø 1800 x 3600 |
| 6 | Sharayu Agro Industries Ltd., Kapashi, Motewadi, Phaltan | Maharashtra | Ø 2000 x 4000 |
| 7 | Bhairavnath Sugar Works Ltd, Lavangi, Tal. Mangalvedha, Dist. Solapur | Maharashtra | Ø 1800 x 3600 |
| 8 | The Sanjivani ( Takli ) S.S.K. Ltd., Kopargaon, Ahmednagar | Maharashtra | Ø 1800 x 3600 |
| 9 | Swaraj India Agro Ltd., Phaltan Satara, (A/C–Walchandnagar ) | Maharashtra | Ø 1800 x 3600 |
| 10 | Agasti Sahakari Sakhar Karkhana Ltd., Akole, Ahmednagar | Maharashtra | Ø 1800 x 3600 |
| 11 | Vithal Refined Sugar Ltd. Village Pande, Karmala | Maharashtra | Ø 1800 x 3600 |
| 12 | Shivaji Cane Processors Ltd, Shirala Sangli | Maharashtra | Ø 1500 x 2000 |
| 13 | KGS Sugar & Infra Corp., Pimpalgaon (Nipani), Niphad, Nashik | Maharashtra | Ø 1500 x 3200 |
| 14 | Vishwasrao Naik Sahakari Sakhar Karkhana Ltd. Chikhali, Shirala, | Maharashtra | Ø 1800 x 2400 |
| 15 | Bhimashankar Sahakari Sakhar Karkhana Ltd., Pargaon Tarfe Avasari, Taluka Ambegaon, Pune | Maharashtra | Ø 2000 x 4000 |
| 16 | Bhairavnath Sugar Works Ltd, | Maharashtra | Ø 1800 x 3600 |
| 17 | Sadashivrao Mandlik Kagal S.S.K. Ltd., Kagal Kolhapur, | Maharashtra | Ø 1800 x 3600 |
| 18 | Dwarkadhish Sakhar Karkhana Ltd., Satana Nashik | Maharashtra | Ø 1800 x 3600 |
| 19 | Sucro-tech Equipments., Pune (Mahadik Sugar Ltd. Kolhapur) | Maharashtra | Ø 1800 x 3000 |
| 20 | Nicks Technical Services., Pune ( 8 Nos for Various Projects ) | Maharashtra | Ø 1800 x 3600 |
| 21 | Shree Tatyasaheb Kore Warana Sahakari Sakhar Karkhana Ltd. Warananagar. | Maharashtra | Ø 2400 x 4500 |
| 22 | Sant Muktai Sugar & Energy Ltd., Ghodasgaon, Jalgaon | Maharashtra | Ø 1800 x 3600 |
| 23 | Jai Hind Sugar P. Ltd. Achegaon, South Solapur A/C – Walchandnagar | Maharashtra | Ø 1800 x 3600 |
| 24 | Baliraja Sugar Ltd., Purna | Maharashtra | Ø 1800 x 3600 |
| 25 | Mohanrao Shinde Sahakari Sakhar Karkhana Ltd., Arag, Tal – Miraj. | Maharashtra | Ø 1800 x 4500 (New Screen) |
| 26 | Shri Makai Sahakari Sakhar Karkhana Ltd., Bhilarwadi Karmala/ | Maharashtra | Ø 1800 x 2400 (New Screen) |
| 27 | Shambhu Mahadev sugar and allied Ind. Ltd. Kalamb | Maharashtra | Maharashtra |
| 28 | Mylar Sugars Ltd., Huviahadagali, Ballari | Karnataka | Ø 1800 x 3600 |
| 29 | The Ghatprabha Sahakari Sakkare Karkhane Niyamit. Gokak, Belgaum | Karnataka | Ø 1800 x 2400 |
| 30 | Ryatar Sahakari Sakkare Karkhane Niyamit, Bagalkot | Karnataka | Ø 1800 x 3000 |
| 31 | Shri Halasidhanath S.S.K. Ltd., Nipani | Karnataka | Ø 1500 x 2400 |
| 32 | GEM Sugars ltd., Kundargi , Bagalkot | Karnataka | Ø 1800 x 3600 |
| 33 | GEM Sugars ltd., Kundargi , Bagalkot | Karnataka | Ø 1800 x 4000 |
| 34 | The Salem Co-op Sugar Mills Ltd., Namakkal | Tamilnadu | Ø 1800 x 3600 |
| 35 | The Chengalrayan Co-op Sugar Mills Ltd. Villupuram | Tamilnadu | Ø 1800 x 2400 |
| 36 | Kallakurichi Co-op Sugar Mills Ltd., Villupuram | Tamilnadu | Ø 1800 x 2400 |
| 37 | Subramaniya Siva Co-op Sugar Mills Ltd., Gopalapuram | Tamilnadu | Ø 1800 x 2400 |
| 38 | Perambalur Sugar Mills Ltd., Eraiyur | Tamilnadu | Ø 1800 x 2400 |
| 39 | N.P.K.R.R. Co-op Sugar Mills Ltd., Nagapattinem | Tamilnadu | Ø 1800 x 2400 |
| 40 | Tiruttani Co-op Sugar Mills Ltd., Tiruttani | Tamilnadu | Ø 1500 x 2400 |
| 41 | Lemniscate Ultratek Industries P. Ltd. | U.P. | Ø 1500 x 2400 |