SINGLE ENTRY CONDENSER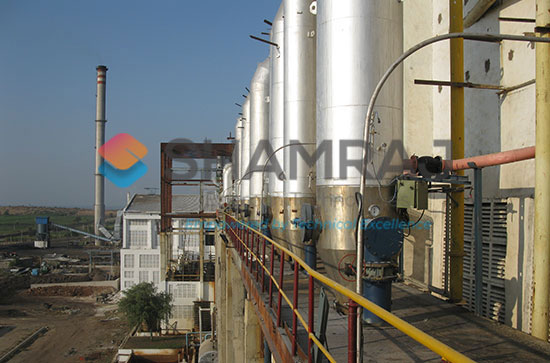 Products Information
1Design based on research of over 40 years by Late Shri M R Marudgan, an internationally renowned sugar technocrat.
2Saving upto 40% in power & water at injection station.
3Instant Vacuum generation
4Stable & satisfactory vacuum condition even at high injection water temperature.(38°C -40°C inlet water temperature).
5Integral Venturi prevents leakages. Tail Pipe with diffuser can be directly bolted with bottom flange of condenser.
6For easy routine inspection a hand hole is provided on Jet Box.
STRAINER
An online S S Strainer prevents foreign materials from getting inside the jet box and prevents clogging of jet nozzles & spray atomizers. Thus, downtime is practically zero. The strainer can be cleaned by operating a hand wheel provided on condenser outside shell without breaking vacuum.
Gravity Flow System
1Condenser to be installed at about 22 metres. Hot water from tail pipes shall be collected in a common header installed at 10 metres height from G.L. This eliminates usages of spray pumps. This common header to be directly connected to spray pond common header. Thus additional power can be saved. Maintenance of spray pumps can be eliminated.
2Approach with vapour temperature around 9°C- 10°C under manual mode & 5°C- 6°C under automation mode.
3Material of construction is best quality stainless steel assures a maintenance free life of over 15 years.
4Effective & quick vacuum generation at 0.2kgf/cm2 inlet pressure. Thus the requirement of hydrostatic head of injection pump is just 17-18mtrs. Due to excellent vacuum condition boiling time reduces & steam economy can be achieved.
HIGH EFFICIENCY SPRAY ATOMIZERS
The specially designed high efficiency centrifugal spray atomizers fitted on the jet box create micro fine atomized spray, resulting into wider surface contact results in instantaneous heat transfer from vapours to condensation water & saves requirement of injection water considerably.